RU-DA s.r.l. started by performing mechanical machining on commission.
We have an over 30-year experience in designing and manufacturing shunts. Over the last 20 years, we have specialised exclusively in the production of shunts.
At RU-DA s.r.l. we have made a significant investment in new-generation machining centres and modern manufacturing systems. In addition, we are constantly working to upgrade our equipment. Through our continuous improvement efforts we can offer quality products at the lowest possible costs.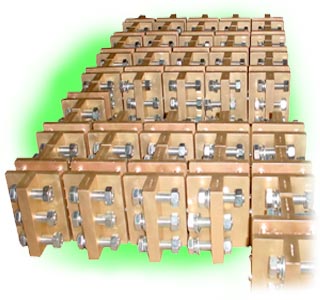 RU-DA s.r.l. is equipped with advanced CAD/CAM programs. We can produce the most complicated shunts in collaboration or according to the guidelines set by our customers.

Our continuous ability to grow and innovate and our reactive and reliable staff represent the "added value" distinguishing RU-DA s.r.l.

We design shunts of all kind to meet the requirements of special application.

Our company operates in the following areas: industrial, railway, naval, military, telecommunication and photovoltaic sector, caravaning, electrical measuring instruments, inverters, welding machines, battery chargers, current rectifiers for galvanic power supplies, power converters, AC/AC power converters, AC/DC power converters, switch-mode power supplies, high-frequency switching rectifiers.